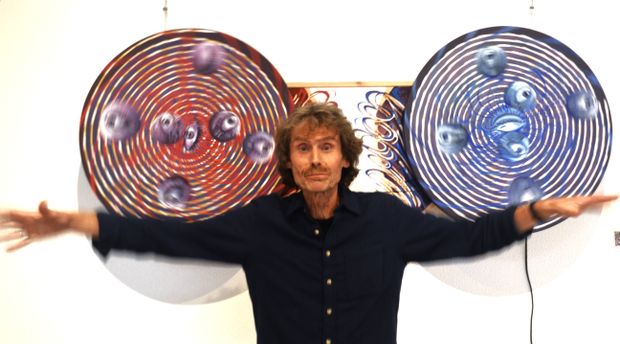 ´ Be creative is an essential need of life ... Expression is a sublimation of sense ...Painting and drawing for me are the best ways to make this visible.The proces of creation, struggling with ideas and material always end in a final decision which is strictly mine. ´ The composition is the first compromise with the idea. Texture and colour struggle for the ultimate result. '
Ben Helmink
born in Brummen, the Netherlands, 18 mei 1950.
I worked many years as a teacher in Amsterdam on a primaryschool and teached children in drawing, painting and handicraft. In 1975 I finished The Rietveld Academy in Amsterdam and got my diplomas for highschoolteacher.
During that time I always made a combination of study in Arthistory and practising several arttechnics. In 2006 my wife Rian and I decided to change Holland for Portugal ... a new adventure started.  The Alentejo is our place of inspiration, creation and expression. 
Monte das Moradias – atelier `Moradias´
7670-613 Santana da Serra – Alentejo - Portugal
Education
Rietveld Academie Amsterdam
Art Culture and Education study at the Hogeschool Holland Amsterdam
Exhibitions
The Netherlands 1981- Amsterdam – Vondelpark
The Netherlands 1985- Amsterdam -  De Melkweg
Portugal - Monchique – Porca Preta
The Netherlands – Den Haag - Max Healthclub
Portugal – Monchique – Galeria Porca Preta
Portugal - Loulé  - Expo Arte Algarve 1
Portugal - Loulé - Expo Arte Argarve 2 
Portugal – Monchique - Galleria Arte Algarve
Spain - Ayamonte – Galeria Arte y Joyas
Portugal – Monchique - Galleria Monchique – Amalia meu amor
Portugal - Monchique
Portugal – Vilamoura - Galeria Antantica
Portugal – Ourique - Biblioteca Jorge Sampaio
Portugal - Santana da Serra - Feira de Agricutura
Portugal - Lisboa - Convento dos Cardaes
Portugal - São Bras de Alportel - Galeria Municipal
Portugal - São Bras de Alportel - Museo do Trajo
Portugal - Galeria Valerie Londot - Almancil
Portugal - Lagos - Antiga Câmara Municipal 
Portugal - Faro -  Casa da Alameda - Grupo de Peace Art and Society 
Portugal - Santa Clara a Velha  - Country Hotel  - permanent exhibition
Portugal - Silves - Café Inglês 
Portugal - Almançil - Galeria ASCA 
Portugal - São Bras de Alportel - Galeria Municipal
Portugal - Portimão - Galeria Texeira Gomes 
Portugal - Silves - Café Inglês
Portugal - Albufeira - Galeria de Arte Samora Barros
Portugal - São Bras de Alportel - Galeria Municipal 
Portugal - Casual Lounge Caffé and Galeria - Lisboa