"The pearl of The Girl with a Pearl Earring of Johannes Vermeer seems not a pearl" was THE Artnews of 2014 … after a period of nearly 370 years a visitor of the renewed Mauritshuis in The Hague where this worldfamous painting is exhibited, makes it worldnews: Reflections in pearls do have another effect of colour as the earring painted in 1655. The 'discovery ' done by an astronomer reflects the way we, 'spectators` make our own interpretation and generate a new reality. We like to see what we don't see …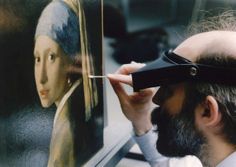 Reminds me on the exhibition called  'Anamorfosen' , where deformated illustrations, sometimes well-known artwork, the spectator misleads and guess what he sees.  After using a special reflectingcase the answer is there.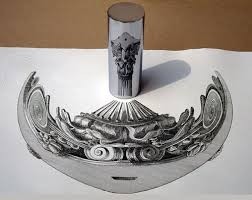 Thatswhy the Flemish painter Jan van Eyck depicted himself in the round mirror in the background of the room where the young businessman Giovanni Arnolfini and his bride posed in 1434. Van Eyck wanted to exclude any doubt who the painter was by writing : " Jan Van Eyck was here ! "
During my last exhibition called 'Temporada' in the Galeria Municipal in São Bras de Alportel
the special attention of the spectators for the reflections in the painting 'After Vermeer, Chardin and Moradias' striked me … to discover what happens with the form and colours if it is refleccted  deserves a second look … a second opinion … a new reality. Secred stories ?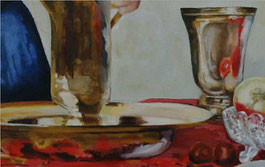 The astronomer who wanted to know the truth about Vermeers earring, bought an earring with a pearl for his wife and arranged the same pose as the girl on the painting. He specially bought a white collar to imitate the white reflection … he went with his wife to the Maurithuis and in front of the painting the wife fronted her eyebrows and said … 
                                                                               "that earring is just paint !"